5 Game-Changing Digital Products to Skyrocket Your Passive Income
Hey there! Just wanted to let you know that some of the links on this website are affiliate links. This means that if you click on one of those links and make a purchase, I may earn a commission at no additional cost to you. Thank you for your support:)
In the realm of financial freedom and digital products, passive income is the Holy Grail, isn't it? We all dream of making money while we sleep, travel, or binge-watch our favorite TV shows.
And, in this fast-paced digital age, there are countless opportunities to make that dream a reality. Surprisingly, it's not as far-fetched as it might seem!
In this article, we'll dive into five game-changing digital products that can undoubtedly skyrocket your passive income. So, buckle up and let's get started!
Digital Product #1: Online Courses — Sharing Your Wisdom with the World
Do you have a special skill or wisdom that you're eager to share with the world? Of course, you do! Online courses are an amazing way to transform your expertise into a passive income stream that keeps on giving.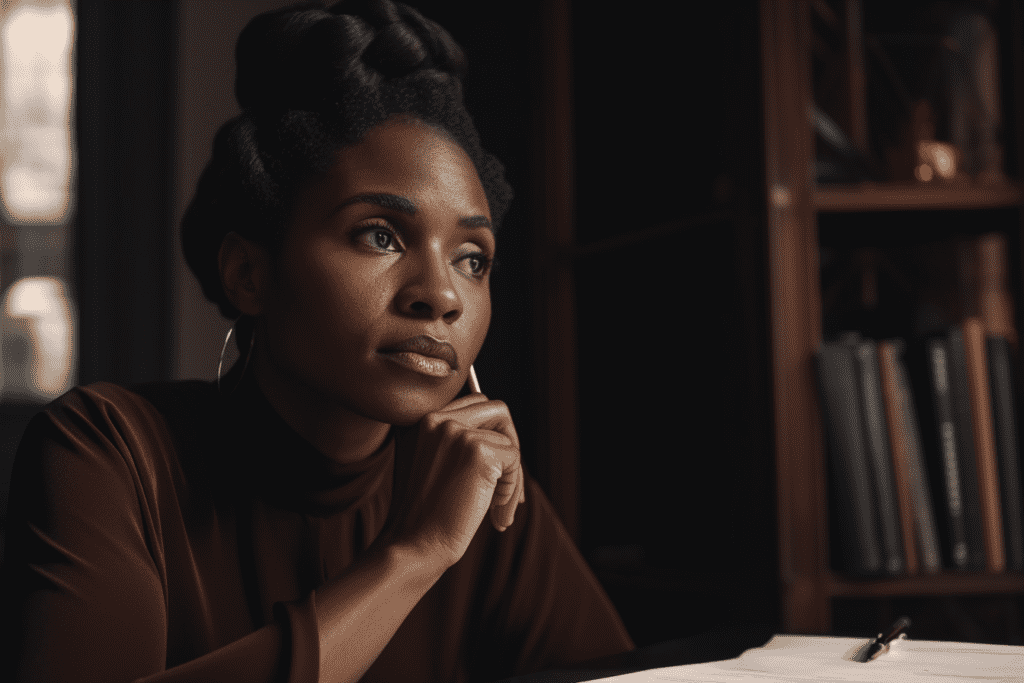 With platforms like Udemy, Teachable, and Coursera at your fingertips, creating and selling your courses to a global audience has never been easier. These platforms take the guesswork out of course creation, giving you all the tools you need to shine.
The best part about online courses? You only need to create them once, and they can keep generating income for years to come. And let's not forget the warm and fuzzy feeling of helping others grow, learn, and thrive—truly, it's a win-win situation!
So, why not embrace your inner Yoda, step into the limelight, and start sharing your wisdom with the world today? Let the teaching adventure begin!
Digital Product #2: eBooks — Turning Your Thoughts into a Passive Income Goldmine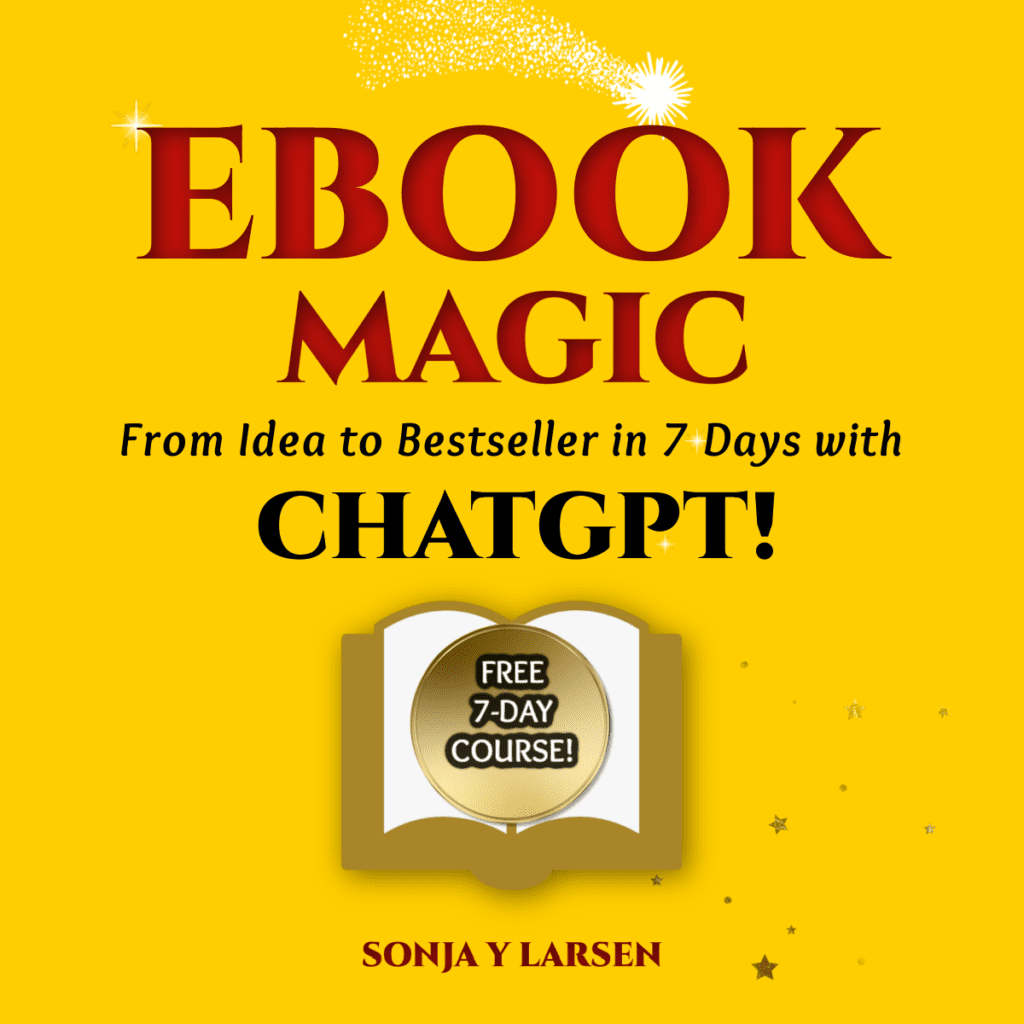 Long gone are the days when you needed a big-shot publisher to make a splash in the literary world. In today's digital age, anyone with a story to tell or knowledge to impart can self-publish an eBook and start generating passive income.
Trust me, platforms like Amazon's Kindle Direct Publishing (KDP) have made it a breeze for independent authors to make their mark.
Now, what's the recipe for eBook success? Simple! Write about what truly sets your soul on fire, and your passion will beam through, enchanting your readers.
And never forget the power of humor! Inject some funny anecdotes or clever quips into your eBook to keep your readers hooked and grinning from ear to ear. They'll adore you for it, and your bank account will thank you too!
Oh, and here's a bonus tip for you! If you're looking to streamline your content creation process, give ChatGPT a try. This AI-powered tool makes crafting engaging and high-quality content a piece of cake, saving you time and effort.
So, what are you waiting for? It's time to put pen to paper—or fingers to keyboard—and write that bestselling eBook!
Digital Product #3: Print-on-Demand Merchandise — Custom Creations for a Global Market
If you've got a flair for design and a burning desire to make your mark in the world of entrepreneurship, then print-on-demand merchandise might just be the perfect passive income opportunity for you.
With platforms like Printful, Teespring, and Redbubble at your fingertips, you can create and sell custom products without the hassle of managing inventory or dealing with shipping logistics.
It's a total game-changer!
From snazzy t-shirts and cozy hoodies to eye-catching posters and stylish phone cases, the sky's the limit when it comes to the range of products you can offer. All you need to do is upload your fabulous designs, pick the products you want to feature, and start spreading the word about your one-of-a-kind creations.
With your unique merchandise captivating the hearts (and wallets) of shoppers from all corners of the globe, you'll soon see your passive income soar to new heights. So, why not dive in and unleash your inner designer today? The world is waiting to see your creations!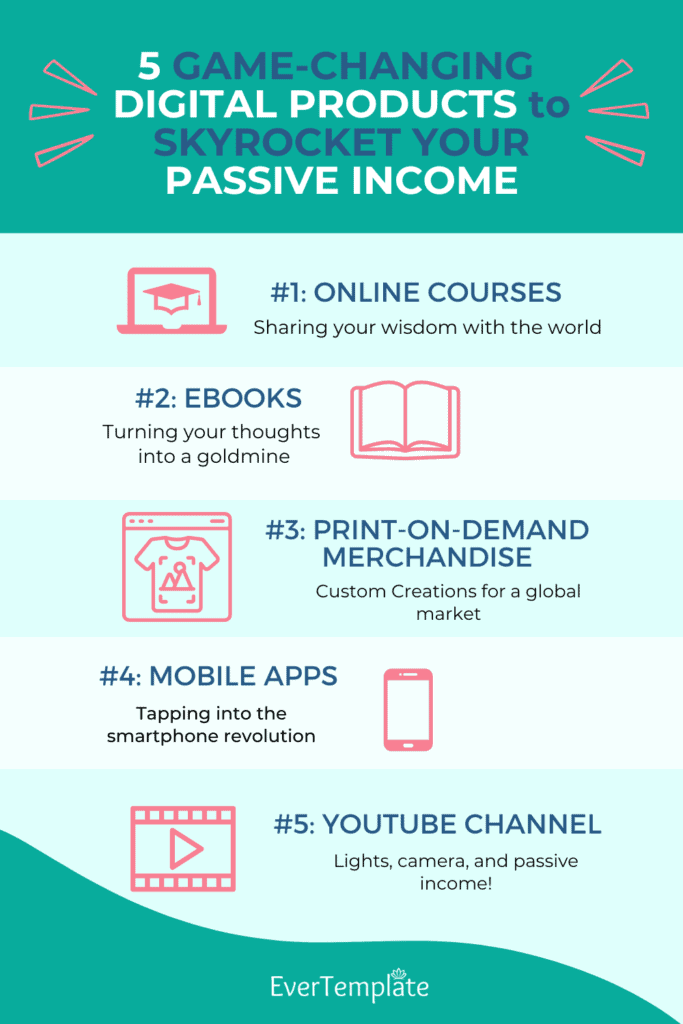 Digital Product #4: Mobile Apps — Tapping into the Smartphone Revolution
In today's fast-paced world, it seems like there's an app for just about everything under the sun. So, why not jump on the bandwagon and create your very own mobile app?
Don't worry if you're not a coding whiz – with platforms like Appy Pie and BuildFire, you can design and launch your app without breaking a sweat. Yep, you read that right – no extensive coding skills needed!
All you need to do is choose a niche or target market, identify a problem you'd like to solve, or simply dream up a fun and entertaining app that users will adore. Once your app is up and running, you can generate revenue through ads or in-app purchases.
The sky's truly the limit when it comes to the potential of your app. Just let your creativity run wild, and you'll soon have an app that resonates with your audience and has them coming back for more.
Digital Product #5: YouTube Channel — Lights, Camera, Passive Income!
If you're a charismatic, camera-loving individual with a story to tell, then a YouTube channel might just be the perfect digital product to help you grow your passive income.
As a YouTuber, the world is your oyster! You can create engaging content on a wide range of topics and monetize your channel through ads, sponsorships, and affiliate marketing.
There's something for everyone, and you get to be the star of your own show.
Now, it's important to remember that building a successful YouTube channel takes time, dedication, and plenty of patience.
But when you think about the rewards, they can be absolutely astounding. Believe it or not, some YouTubers make millions of dollars per year! How's that for motivation?
So, what are you waiting for? Grab your camera, channel your inner Spielberg, and start filming your way to passive income success.
With a little perseverance and a whole lot of passion, you'll soon be the proud creator of a thriving YouTube channel!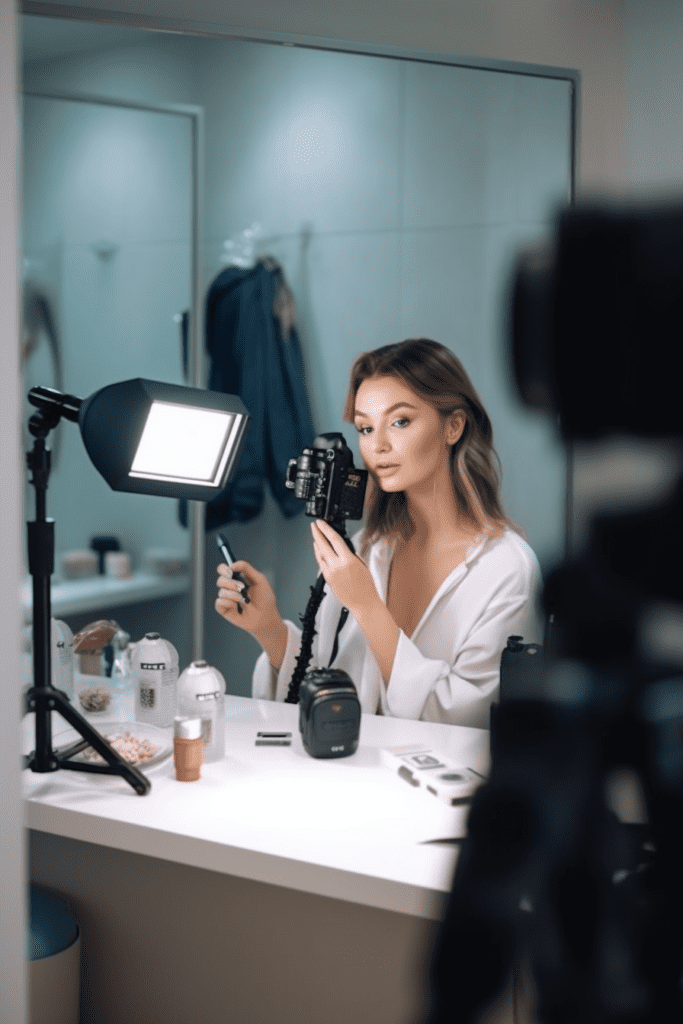 Final Thoughts: Passive Income Possibilities with Digital Products are Endless
There you have it – five more game-changing digital products that can help you skyrocket your passive income. With perseverance, creativity, and a willingness to explore new avenues, you can create a diverse and thriving passive income portfolio.
So, why not take the plunge and start experimenting with these digital products today? Your future self will undoubtedly thank you for it.
Frequently Asked Questions